So, sitting here today picking thru my ride checklist. After taking out the compressor at the house and airing up my motorcycle tires before a ride yesterday...an idea (from way back in August!) popped into my head "I need to do something with my portable compressor!"
See, I had a wee bit of an issue when I last used my Slime 40001 Power Sport tire inflator, when I patched the tire in Las Cruces
https://kwthom.blogspot.com/2018/08/...rney-home.html
I had to hold this one section of the line open while the tire inflated. Over time, that little air line gets a 'set' due to it being stored in a compressed manner while in the case.
By my estimate, I've had this thing for about a decade; I've really only put it to use about a half-dozen times. It's *is* nice to know it's there.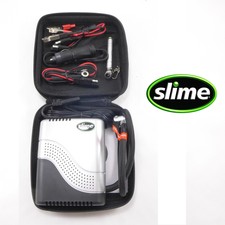 I did a really quick search on eBay, but just didn't know the size of the air fitting on the compressor or hose. Standard size? Some weird metric size? Well, I couldn't figure it out quickly...let's go at this in a different way.
I find a link to send them a message from their web page - great! I write:
"Do you sell a replacement air hose for this product? I've had this inflator on my motorcycle for about a decade...and the air hose hasn't developed a leak, but it has quite a kink that's nearly impossible to undo while using the inflator the last time I did use it in an emergency last August. My fear is a dry-rotted condition, which would render the entire inflator useless the next time I put it to use. Thanks for any information you can provide."
I got an email fifteen minutes ago in response:
"The hose comes in a bundle with the other accessories which I will send to you. And it is free. This will go out tomorrow, USPS."
I'll let ya know in a few days what shows up.